How to activate your license?
To activate the Billing license,
Login to the Billing Resource Provider Virtual Machine.




Open a

new

elevated (administrative) PowerShell console and change to the directory "C:\temp".




Run ActivateLicense.ps1 script and specify the required parameters.



| | | |
| --- | --- | --- |
| | | |
| | Unique identifier of the License | |
| | Email Id that is mapped with the License | |
Copy the generated

License.cal

file to the location "C:\inetpub\MgmtSvc-CloudAssertBilling\bin"




Recycle the IIS application pool for the site

MgmtSvc-CloudAssertBilling




In Admin Portal, click

Billing > License

blade to see the licensed features and quotas.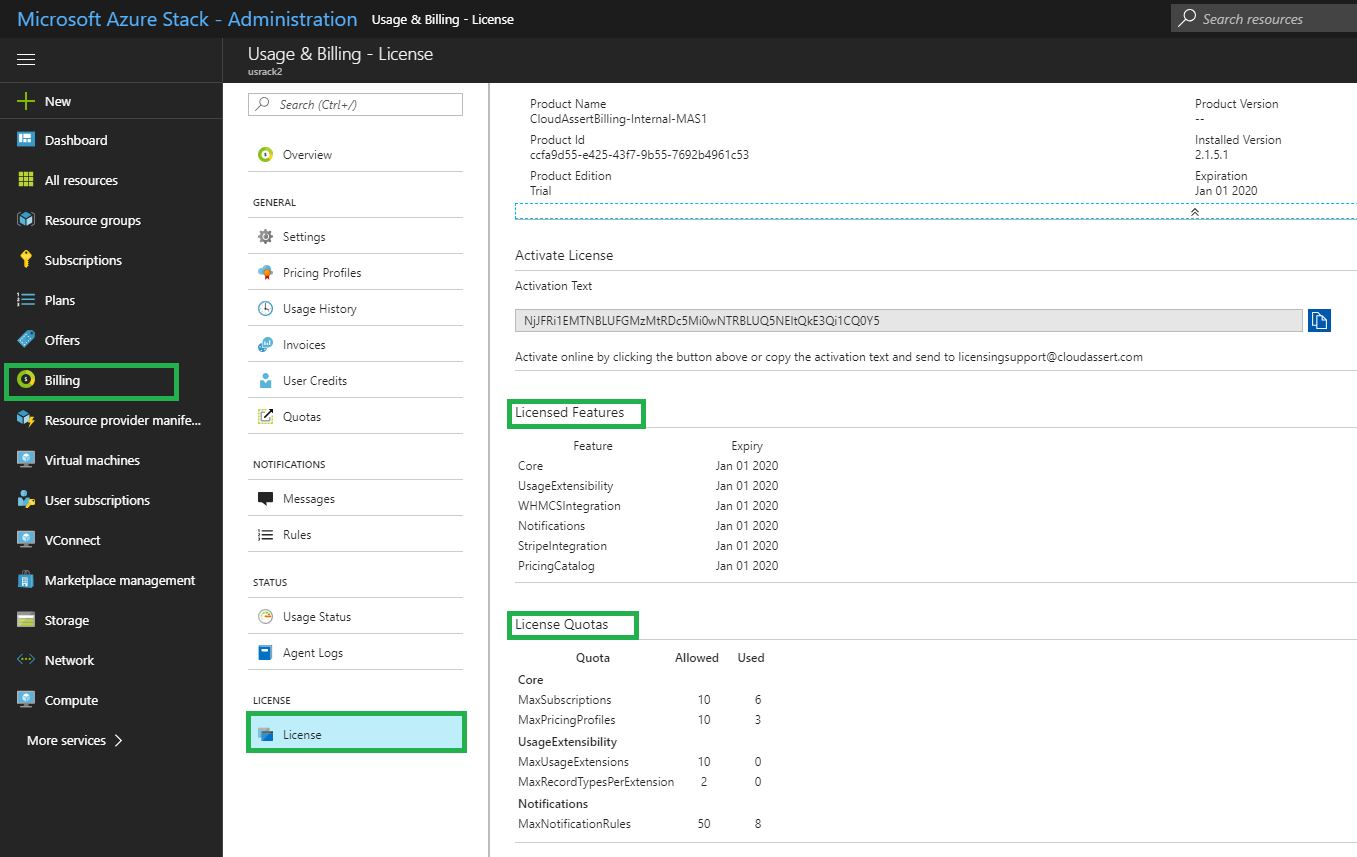 Related Articles

Setup Guide

This setup guide provides detailed setup instructions. It does not contain any type of processing information. The information in this setup guide is subject to change. CLOUD ASSERT BILLING SETUP & CONFIGURATION GUIDE | Billing for Microsoft Azure ...

Update Instructions for version 1904 of Azure Stack

This guide discusses the updated Instructions for version 1904 of Azure Stack. The features like Updating the Resource Provider Components and Updating Billing API and Agent Service are discussed in detail. Pre-requisite for Updating the Resource ...

Operation Manual

In cloudassert, we do not prefer a hundred paged document instead we offer an interactive and intuitive online document that provides the necessary information which is easy to understand. CLOUD ASSERT BILLING FOR MICROSOFT AZURE STACK OPERATIONS ...