How to enable additional users to see WAP Subscription Resources?
In Windows Azure Pack you can make a user as a co-admin for a given subscription. This will allow them to view and manage resources under that subscription. For example say you have a project team and you want all the members of the project team to have access to all the resources.
In that case project team will have 'a' subscription and all the team members will be co-admins of that same subscription. You can have multiple subscriptions for the project team, for example: like a subscription for 'Dev Resources', 'Test Env1', 'Prod Scale Unit1' etc. – but all the team members need to be made as co-admin for all the subscriptions you want them to have access.
Go to Plans à Subscriptions à Select a subscription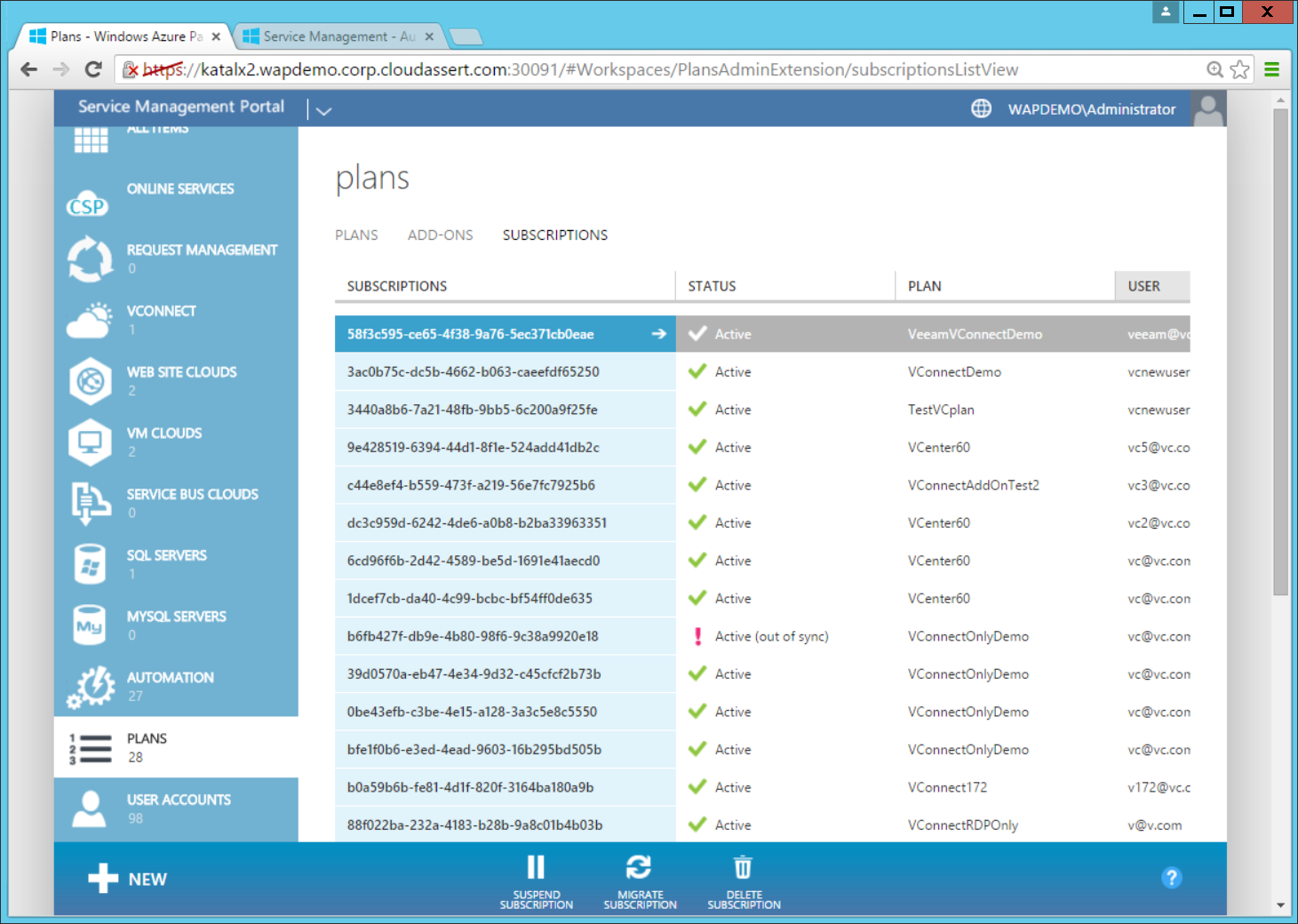 Click on a subscription to drill down and select 'Administrators':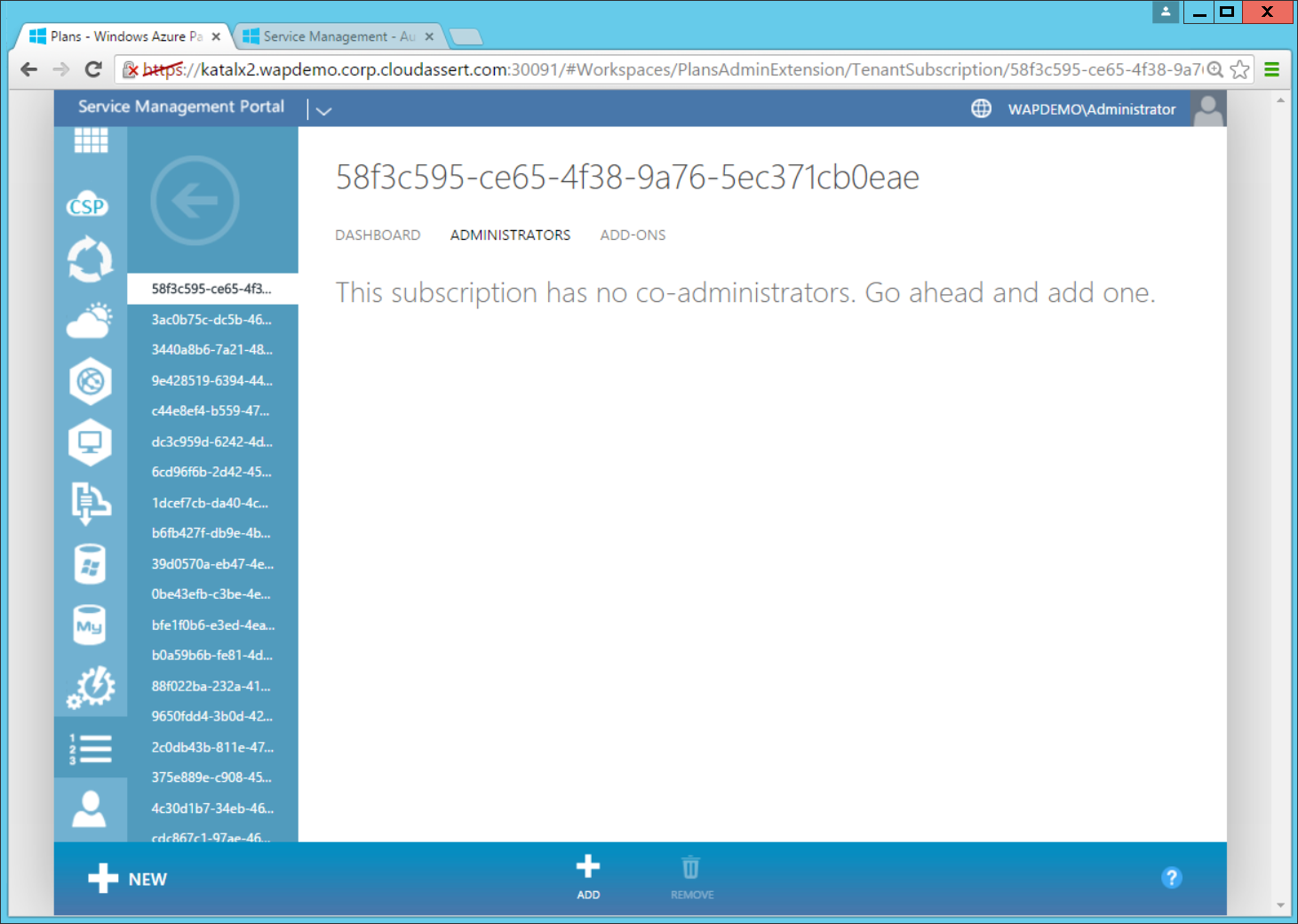 Click 'Add' to add user as a co-administrator to this subscription: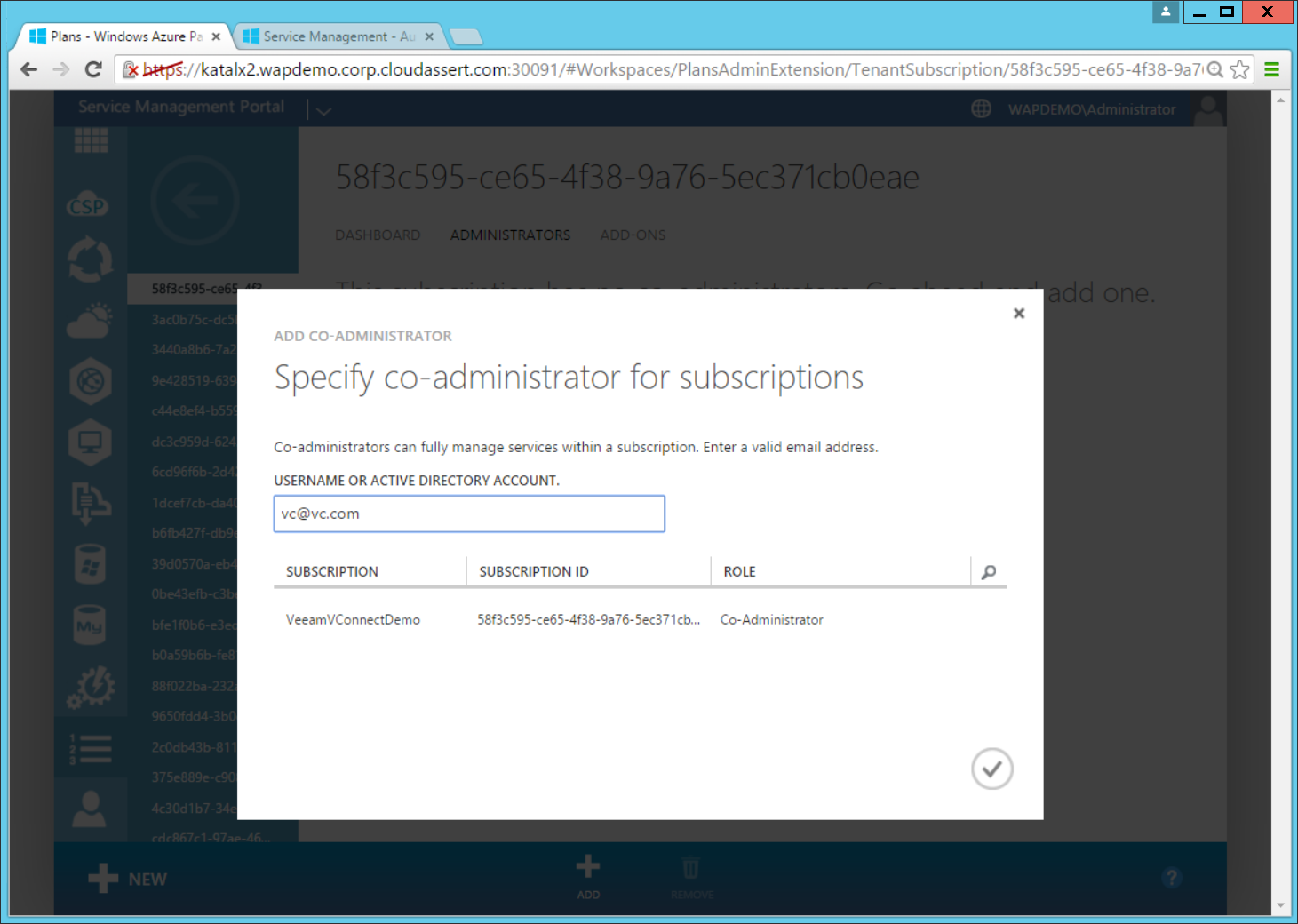 Related Articles

Invoices from Usage and Billing Solutionin WAP is not sent to WHMCS portal

If the invoices are generated in WHMCS portal with zero amount for the previous month, please delete them and ensure the below steps. Open 'CloudAssert.WAP.Billing.AgentService.exe.config' file located at 'C:\Program Files\ CloudAssertBilling\ ...

WHMCS - Remove Multiple wrong/old subscription

Please find the steps to resolve the issue of associating account in WHMCS. 1. Check the following for the active product instance in WHMCS admin portal and update them accordingly. Subscription Id, Status, (Active status) Next Due Date ...

Use of Formula while setting Metered Resource pricing in Cloud Assert Usage and Billing Solution

Use of Formula Formula are used to modify the units obtained from the raw usage data of resources before computing the price for the resource. There are two types of formula 'Unit Formula' and 'Custom Formula'. i. Unit Formula It ...

VMs Count and Duplicate display of Vms Issue in WAP VConnect

If Duplicate VMs are displayed , please do the follow checks in VConnect. Check VMConfig Table of VConnect for Virtual Machine details of the Subscription . If table contains duplicate VMs for same Subscription, look for the Current State , Desired ...

How to uninstall VConnect and Usage and Billing?

If there is a need to retain all existing data (i.e., VMs, subscriptions, etc.) when installing the new version, then refer to UPGRADE INSTALL sections below. If all existing data needs to be cleaned then choose FRESH INSTALL sections below. VCONNECT ...